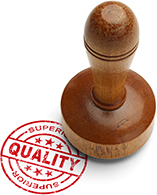 Our company is committed to managing quality issues as an integral part of its business policy. In addition, it is a permanent policy to raise awareness of quality issues in all activities.
We communicate our commitment to quality to all company employees, suppliers and customers. We ask for their input in achieving our goals and offer our support in achieving theirs.
We promise that our effort for complete customer satisfaction will be continuous. Our company's goal is to produce products that meet customer expectations in terms of quality and price competitiveness. Our company produces products that comply with national and community standards.
All the personnel of our company follow and apply the specifications of the EN ISO-9001:2015 system because our purpose is not simply to produce quality products and to satisfy the customer's expectations, but to inspire the people who produce the goods, so that they give their best selves.